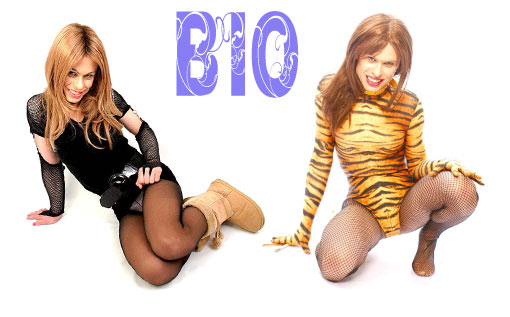 Naughty Nina a Strange Little Girl
You've probably already had a quick look around my site and maybe you're wondering if you want to book me or not? Well hopefully you'll answer 'yes' to that question after finding out a bit more about who I am and what makes me tick.
First off as you can see from the photos I'm a very sexy young transgendered girl living in the UK. I prefer the term transgendered to transvestite as I live work and play as a girl even though I've not had a sex change or any operations. I think of a TV as someone who dresses up just for sexual thrills and I'm so much more than that as I've always wished I had been born female but never been sure physically changing into one would actually make me a real woman or any happier. Some of you will already know me from my Naughty Nina site or from Strange Little Girl and Mistress Nina websites even from Repartee magazine, which I've modeled and written articles for, over a number of years now, or you may have seen me on various other bondage/bdsm sites like Fetlife.
If you don't already know me, you only really need to know this: I am into some very kinky things and love being a damsel and distress and totally helpless at my captors mercy to do with as they wish which can be anything from being tied up in extreme bondage to being made very wet and messy to being humiliated and forced to be a human pony or mummified and much worse
Most of my time these days is spent between making very kinky films, working as a pro-sub/dom (making peoples' fantasies become reality) and attending local fetish and BDSM clubs, where I end up in all sorts of predicaments - I'm always coming up with new bondage ideas or ways to be humiliated and sometimes being a 'demo bunny'.
So what kinky things do I enjoy the most I hear you ask?
To be honest, everything you see me advertising on this site I really enjoy especially if it gives others enjoyment or turns them on, from bondage to spanking, from pony play to messy play. I do genuinely like it all and love to combine my fetishes to make it even more extreme.
Now you know a bit about me isn't it time you paid me a visit to make your own kinky fantasies come true.
If you want to know even more about me then visit my other sites –
www.strangelittlegirl.co.uk
www. naughtynina.net